MEET OUR STAFF
Elves hard at work to bring you Christmas joy all year...
SURGERY
Dr. DeFrancesco
Dr. Joseph DeFrancesco opened his practice in the Bellevue area 28 years ago serving the northwest region of Pittsburgh. His educational background includes a Bachelor of Science degree from the University of Pittsburgh and a Doctor of Dental Medicine degree from the University of Pittsburgh School of Dental Medicine in 1977. This was followed by a General Dentistry Internship and a one year Residency in Anesthesiology at Montefiore Hospital of UPMC. With his completion of a 4 year Residency in Oral & Maxillofacial Surgery from Allegheny General Hospital, he continued a part time teaching position at the hospital for a number of years, lecturing on a variety of surgery related topics. The doctor is a member of the American College of Oral & Maxillofacial Surgeons, the International College of Oral Implantologists, and the Society of Osseointegration. He keeps abreast of all the latest techniques by attending numerous continuing education courses each year. Dr. DeFrancesco continues to be available to provide educational presentations on a variety of subjects to surrounding community groups. Winning the respect and friendship of many patients over the years, his greatest attributes have been his sincere degree of compassion for his patients and the application of his knowledge and skills with the gentlest touch and a confident air of professionalism.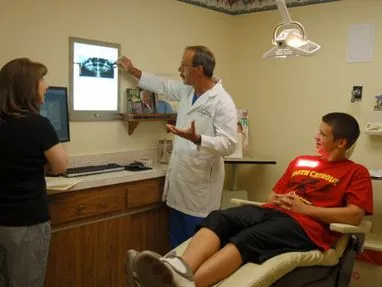 Consultation - discussing "Wisdom Teeth"
Performing the "happy" task of maintaining perfectly functioning instruments at all times!
Mary Lou - Surgical Assistant
"This job brings me the satisfaction of being able to assist and ease the patients through their surgery, making it less stressful for them."
MaryLou has been working in different capacities with Dr. DeFrancesco for about 20 years after 5 years of working for a general dentist in the downtown area. By discovering how much she enjoyed working with her hands and learning all the intricacies of surgery, she realized her passion as a full time surgical assistant. An important phase of her job is insuring that all of the instruments and surgical areas are sterile and set up for maximum efficiency. She is also our certified x-ray technician.
Our patients feel quite comfortable in MaryLou's hands since her gift for conversation puts them at ease as they begin to relax in one of our three comfortable surgical chairs.
FRONT OFFICE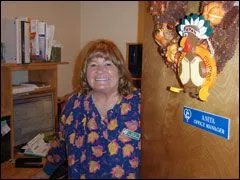 Administrating with a smile
and 'fruitful' advice

Anita - Practice Administrator
"My primary objective is to provide for a healthy, relaxing and pleasant atmosphere for the patients to feel comfortable and at ease during their care here.

Our goal is to make every patient feel special as we reach out to serve them with the kindness, respect and compassion they deserve…"
Adding a lighthearted spirit to the office, Anita joined the practice in 2002. With her business management and problems resolutions skills, Anita is our "go-to girl", the one everyone counts on to troubleshoot and deal with unusual situations. She focuses on the business aspect of the practice, including accounting, marketing the practice and coordinating the duties of the front office staff so that everything runs smoothly & efficiently.
It's a pleasure helping our patients!
Diane – Patient Care Coordinator
"I feel very strongly about coordinating a patient's treatment according to their financial needs and it makes me feel really good when I am able to schedule a patient for their surgery within their financial limitations."
Diane joined our front office staff in 2007, bringing with her a wealth of knowledge and 25 years of experience in a variety of capacities in the dental field. She started working in a dental practice in Erie, PA in 1985 and continued gaining a deeper insight into the dental field and insurances etc. for the next 20 years, working in Pittsburgh. Her front office tasks are unlimited; but she works hard at researching insurances and establishing affordable payment plans. Upon coordinating your appropriate treatment with Dr. DeFrancesco and scheduling your surgery appointment, Diane will work with you until you feel comfortable knowing what to expect, both from the post surgery recovery aspect to understanding your insurance coverages and financial responsibilities .
Always happy to welcome you with a friendly greeting
Nadine – Receptionist / Patient Check-In
"I really enjoy having contact with the patients, greeting them and making them feel as comfortable as possible…"
Though Nadine has only been with the practice for for 4 years, she has provided invaluable resources to the front office since she had worked for numerous years in a general dentist's office. She may be one of the first welcoming voices you hear as you call to schedule your appointment (one of her many "business office" skills). And as she cheerfully greets you upon entering the reception room, she will help make sure your paperwork is completed accurately. So feel free to ask her any questions. Nadine's pleasant, easy going mannerism will help you feel comfortable during your initial visit and subsequent treatment at our office.